Projects
Godwyn Group concerns the development in environment management, new and renewable energy industry, and sustainable urban development. Through the forms of technical tour, forum, seminar and dialogue, Godwyn group provides platform to strength international cooperation in environmental, clean energy, green buildings and other fields.
JTC unveils cleantech building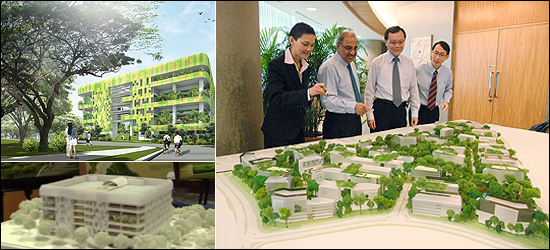 INDUSTRIAL landlord JTC Corp has unveiled the first cutting-edge building to be built at Singapore's recently announced Cleantech Park for green businesses on Nanyang Avenue. The $90 million building - called Cleantech One - will offer about 404,000 sq ft of office space that can house up to 50 green businesses when it is completed by December next year. The building will incorporate state-of- the-art green features such as solar energy systems, rainwater harvesting, sky gardens and sustainable construction, said JTC at a briefing yesterday. If the solutions we implement are successful, we will replicate this throughout the rest of the Cleantech Park and share it with the rest of Singapore and the region,' said JTC's director of aerospace, marine and cleantech cluster, Ms Tang Wai Yee. The masterplan for the Cleantech Park - which will be Singapore's first business park catering to green firms - was announced last month by JTC and the Economic Development Board (EDB). When fully completed in 2030, the 50ha park will create 20,000 'green-collar' jobs. It will be built in three phases at an infrastructure cost of $52 million, which does not include buildings.
Related information:
Channel News Asia report$90m cleantech building - Straits Times
Gardens by the Bay
Gardens by the Bay epitomises NParks' vision of creating a City in a Garden. Gardens by the Bay will capture the essence of Singapore as the premier tropical Garden City with the perfect environment in which to live, work and help make Singapore a leading global city of the 21st century. The Gardens will put in place a pervasive garden ambience and quality living environment from which Singapore's downtown will rise, and steer Singapore to the forefront of the world's leading global cities. It will complement and complete the necklace of attractions that have been planned for around Marina Bay.
Related information:
More Details (PDF file)Gardens by the Bay-Official Website
Jurong Lake District
As part of the Draft Master Plan 2008, Mr Mah Bow Tan, Minister for National Development, recently announced a blueprint to transform Jurong East into a unique lakeside destination for business and leisure in the next 10 to 15 years. Come journey ahead of time with Skyline to discover what is in store.
Related information:
Jurong Lake District Draft 20th Aug 2009 (PDF file)URA - Jurong Lake District
Punggol 21
Punggol, also spelt as Ponggol, means "hurling sticks at the branches of fruit trees to bring them down to the ground" in Malay.Historically, Punggol used to be a kampong fishing village, where Indonesian and Malaysian fishermen auctioned their catch at the wholesale fish market. Under the Punggol vision "A Waterfront Town of the 21st Century", the new waterway runs along the East-West Corridor of Punggol Town and links up the Reservoirs at Sungei Punggol and Sungei Serangoon to form an enlarged water body thereby bringing water closer to people. The proposed Waterway will meander through the town and create a delightful waterfront environment for all. There will be promenades on both sides of the Waterway where residents can go for a leisurely stroll or bicycle ride. In addition, the Waterway will allow more opportunities for water-based recreational activities and sports, right next to the homes.
Related information:
Punggol 21_Draft 19th August 2009 (PDF file)Shaping My Punggol
Solar tree
On October 8th 2007, the innovative Solar Tree project was presented for the first time in front of "MAK" Museum of Applied and Contemporary Arts in Vienna, Austria. This urban lighting project was produced and developed by the Artemide and Sharp Solar companies. The solar tree, designed by MAK's Ross Lovegrove, absorbs solar energy during the day and emits light in the nighttime. Using solar cells technology to light the streets is not only efficient but also environmentally friendly and economical, as it decreases electricity expenses.
Related information:
Solar EnergyICA